Indian Astrologers Brisbane
Indian Astrologers Brisbane – Indian Astrology Brisbane – Indian Astrology Centre Brisbane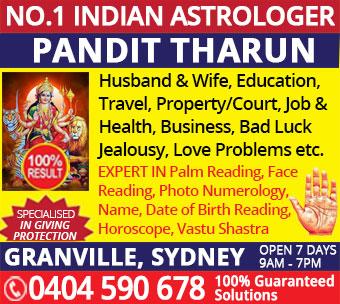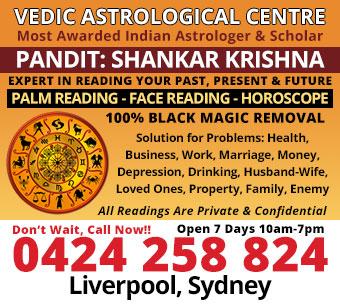 36 Listings Found
Psychic Neha Brisbane
My intention is to help others take direction and become more empowered in their lives.
I Can Speak The Following Languages: English, Hindi, Bengali, Gujarati, Assamese.
Brisbane
0490 274 706
Website

Sarkar Astrology Brisbane
Astrology is a science. Everyone wants to know about their future, about their health, how to resolve family issues.

Aditya Astrology Center Indian Astrologer & Psychic Reader Brisbane, QLD
World Famous Indian Traditional Skilled in all Astrology.
Car Parking Available.
46 /1162, Cavendish Road, Mt Gravatt East QLD 4122
0404 074 905
Website

Astrologer & Palm Reader Pandit Jayaram Brisbane
Education, employement, love, marriage, children, health, wealth, gruha vastu, family problems and navagraha pooja for bad luck & black majic removable pooja, dosha nivarana pooja, business & work improvement pooja
1/621 Newnham Rd,Upper Mt Gravatt Brisbane QLD 4122
07 3420 0925
0414 619 124

Brisbane Indian Famous Astrologer And Palm Reader And Tantrik
Name: HK Joshi
621 Newnham Rd, Upper Mt Gravatt, Near Garden City Westfield Super Market, Qld 4122
0412 729 501

Pandit Surya Indian Astrologer, Clayton, Melbourne, VIC
Pandit Surya ji renouned Indian astrologer in Melbourne also offering his services in Brisbane & Perth, Australia. He is entitled with most trusted australian astrologer. You can call him direct and discuss your problem on phone.
0451 849 899
Website

Love Vashikaran Specialist in Australia Sydney, Melbourne, Brisbane
201 / 244 Lonsdale Street, Dandenong, Victoria, 3175, Australia
0451 444 792
Website

Jagannath Indian Astrologer Sunshine, Melbourne
Get expert astrologer consultancy, horoscope, professional astrology consultancy services in Perth online, future predictions.
67 Devonshire Road Sunshine VIC
0426 188 535
Website

Acacia Ridge
Indian Astrologers in Acacia Ridge, QLD
Durga Mata Astrological Centre
Acacia Ridge QLD, 4110
0426 262 225

DURGA MATA ASTROLOGER CENTER PRIEST: RAJU SWAMY ( DURGA TEMPLE)
105, POSTL STREET, ACACIA RIDGE, BRISBANE. QLD 4110 CLOSE TO ALDI AND WOOLWORTHS
0406 337 019

Bald Hills
Indian Astrologers in Bald Hills, QLD
ASTROLOGRE MAHARISHI
6 Duncan ave
0405354449
Website

Brisbane
INDIAN ASTROLOGER, BLACK MAGIC REMOVAL IN 3 DAYS
Brisbane
0404118755

PSYCHIC MEDIUM AND BAD LUCK SPELL REMOVAL
Brisbane
0449 817 972

Pandith YOGINATH Indian astrologer in AUSTRALIA
Brisbane
0404 118 755

Psychic Astrologer Pandith Sampat
Brisbane
0449817972

Sarkar Astrology
Brisbane
0407361679

Best Immediate Solution to Your Issues of Life - Fee After Work $30
Brisbane
0488852002

Best ❤️Love-Family 👨‍👩‍👧‍👦 Astrologer & Black Magic Removal $30
Brisbane City
0410767886

Browns Plains
Indian Astrologers in Browns Plains, QLD
Astrologer
Pandith DURGA, 6 Janita Dr Browns Plains, QLD, 4118
0405 386 369

Carina
Indian Astrologers in Carina, QLD
Psychic Reader and Fortune Teller PT. Nandaji
15 144 Meadowlands Rd, Carina QLD 4152
0420 444 551
Website

Collingwood Park
Indian Astrologers in Collingwood Park, QLD
AVATAR CLAIRVOYANTS
Collingwood Park QLD, 4301
07 3818 1175

Drewvale
Indian Astrologers in Drewvale, QLD
Supwerweb Vedic and Western Astrology Solutions
32 Caley Cres, Drewvale QLD 4116
07 3472 0324

Eagle Bay
Indian Astrologers in Eagle Bay, WA
BEST LADY ASTROLOGER +61413637745
BEST LADY ASTROLOGER +61413637745 Love problem solution love life  love attraction breakup solution Vashikaran BLACK MAGIC FAMILY PROBLEM
Eagle Bay
+61431197683
Website

Fortitude Valley
Indian Astrologers in Fortitude Valley, QLD
Pandit Shiva Shankar Love Spell Caster. Expert Love Astrology. Accurate In Palmistry
203/270 Burnswick Street, fortitude Valley QLD 4006
0424112699
Website

Kedron
Indian Astrologers in Kedron, QLD
Sairam Astrology Brisbane
Pandith is Specialist in Indian Astrology- Palmistry Numerology-Horoscope - Family Problems -Birth chart reading - Get your Lover Back - stop Separation Divorce.
76 boothby street
0414296151
Website

Mount Gravatt East
Indian Astrologers in Mount Gravatt East, QLD
Aditya Astrology Center
46, 1162 Cavendish Rd Mount Gravatt East, QLD, 4122
0420 345 543

Aditya Indian Astrology Center
Top & Best Astrologer In Australia
46 1162, Cavendish, Road Mount Gravatt East Road Mount Gravatt East, QLD, 4122
0404 074 905

Best Indian Astrologer Brisbane Australia
46/1162 Cavendish Rd Mount Gravatt East QLD 4122
0420345543
Website

Pinkenba
Indian Astrologers in Pinkenba, QLD
Best Astrologer, Vashikaran Specialist, Love Spells Caster, Black Magic Removal Specialist
Pinkenba
0488856028

Redcliffe
Indian Yoga & Meditation in Redcliffe, QLD
psychic
Pandith Ji, numerologist, gemologist, palmist and comprehensive specialists in Brisbane, Pandith Ji. We invite all of you to split and break out the obstacles and battles with demonstrated and a standout amongst the best Vastu Shastra c
Redcliffe QLD 4020, Australia
0414902616

Strathpine
Indian Astrologers in Strathpine, QLD
Gifted Spiritualist Astrologer Pandit : Mokshagna
We are Brisbane No.1 ✅ Astrologer, Love Psychic and Spiritual Healer with I have so many Satisfied Clients and Has 30 Years Of Experience in Astrology & Psychic Readings Call ones get your solutions
Strathpine Centre, Gympie Road, Strathpine QLD
0414902616
Website

Upper Mount Gravatt
Indian Astrologers in Upper Mount Gravatt, QLD
Best Astrologer in Brisbane Guru ramji
550 Newnham road Upper Mount Gravatt Qld 4122
0458118815
Website

Astrologer Guru Ramji
550 Newnham road
0414296151
0414296151
Website

Best Indian Astrologer
Pandith Yogi Maharshi is the Best Astrologer in Melbourne, Australia.
#Westfield,garden city Upper Mount Gravatt Qld 4122
+61451542442
Website

Jayram Astrology Brisbane – Indian Astrologer Mount Gravatt
30 Archer Street, Upper Mount Gravatt, Brisbane, QLD
0415 483 030
Website

W Tree
Indian Astrologers in W Tree, VIC
BEST ASTROLOGER +61431197683
Best Astrologer in Australia vashikaran mantra love marriage experts family problem solution Love marriage experts One can change your life +61431197683
W Tree
+61431197683
Website

Comment
3 Responses to "Indian Astrologers Brisbane"
pam Says:
Sun 9th Jun 13 7:08am


I need to see a pandit in brisbane cant get through, anyone please advice..thks

pandit harikrishna joshi Says:
Fri 19th Oct 12 6:08pm


BRISBANE INDIAN FAMOUS ASTROLOGER. The Horoscopic Astrologer H K SHARMA Gold Medalist in Astrology. Specialist in Birth Charts, Hand Reading/Palmistry, Personal Problems, Numerology / Nameology, Child problems, Predictions & Forecasts (monthly, quarterly, half- yearly, yearly) Question & Solutions, Event Planning, Health indications & Life Longevity Match-Making Relationships or Predictions relating to Married and love life. .Prospect of Travel…in Career & Leisure
100% REMOVAL OF BLACK MAGIC AND JADOO,110 YEARS SPRITUAL POWER GUARANTEED
100% private and cofidential

contact
621 newnham rd upper mt gravatt qld4122,cell 0412729501

SAIRAM PANDIT Says:
Thu 11th Oct 12 7:39am


PANDIT EXPERT IN.PALM READINGS,FACE READINGS,HOROSCOPES,
REMOVAL OF ANY KIND OF BLACK MAGIC AND EVILS
SUCCESS OF ANY PROBLEMS…100%
CALL PANDIT 0481194108